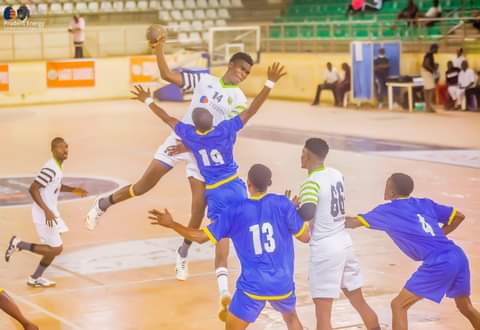 Defending Champion Adorable Angels didn't find it easy as they did in day 1 as they struggled to defeat Defender Babes 30-29 on Day 2 of the Prudent Energy Handball Premier League 2021.
A last gap goal at the dead of time was enough for the Ilorin based team to defeat Defender Babes 30-29 in the Women category while Imo Grasshoppers defeated Edo Dynamos 25-18.
Still in the Women Category, Safety Babes experience was on hand to help them overcome stubborn Bayelsa Queens 27-19 while Seasider Babes got their first victory of the league howbeit a struggled 20-19 over Kada Queens.
Final match of the day in the women category saw Plateau Peacocks defeat Confluence Queens 22-18
All matches in the women category was were played at the Velodrome at Package A of the Moshood Abiola National Stadium.
At the Indoor Sports Hall, Package B of the Moshood Abiola Stadium, where the Men Category matches were played, defending champion Safety Shooters comfortably defeated Kada Stars 33-19 while former champion Niger United defeated Plateau Vipers 31-23.
Tojemarine Academy couldn't match up to the firepower of Confluence Stars as they lost 27-21 while the match between Kano Pillars and De Defenders ended in a dramatic 22-22 draw.
Final match of the day saw Seasider Boys defeated Police Machine 31-23
Day 2 Results
FEMALE
Imo Grasshoppers — Edo Dynamos 25–18.
Adorable Angels — Defender Babes 30– 29.
Bayelsa Queens — Safety Babes 19–27.
Seasider Babes – Kada Queens
20-19
Plateau Peacocks – Confluence Queens 22-18
MALE
Kada Stars — Safety Shooters 19–33.
Plateau Vipers — Niger United 23–31.
Tojemarine Academy – Confluence Stars 21–27.
Kano Pillars – De Defenders 22-22
Lagos Seasider Boys – Police Machine 31-23