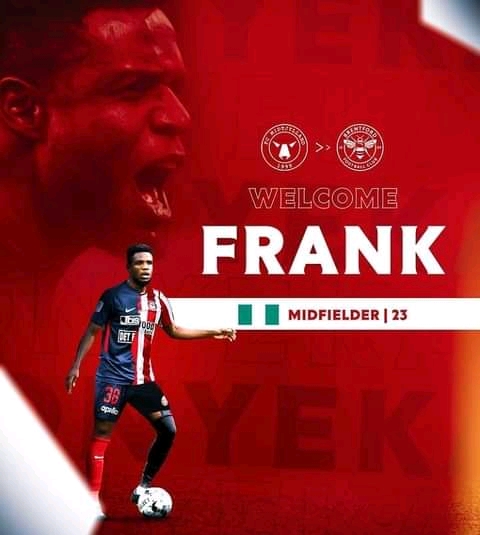 Newly promoted English Premiership side Brentford have completed the signing of Nigeria international Frank Onyeka on a five year deal, Owosports.com.ng reports.
The club made the announcement via their Social media account, "We are delighted to confirm the arrival of Midfielder Frank Oyenka from FC Midtjylland", the club wrote.
Subject to international clearance, a work permit for the 23-year-old was received at the weekend and he has completed a medical. Frank joins from FC Midtjylland, where Brentford FC Owner Matthew Benham has the majority shareholding, for an undisclosed fee and has signed a five-year contract.
According to the clubs official release, Oyenka arrived in the UK yesterday, Monday 19 July, and will now undergo a period of quarantine before joining with the squad for training.
Frank has spent his entire professional career with FCM, as they are known, and has been a regular for them in the Danish Superliga for most of the past four seasons after arriving in Denmark as an 18-year-old from FC Ebedei, a Nigerian club with links to FCM. He progressed to the First Team and made his breakthrough in the 2017/18 season.
Frank was part of the FCM side that won the Superliga in 2017/18, playing 15 games. He helped them win the title again in 2019/20 and the Danish Cup in 2019. Frank played in the UEFA Champions League and UEFA Europa League for FCM, and leaves Denmark having made 123 appearances and scored 17 goals.
Thomas Frank, Brentford FC Head Coach, said: "I am looking forward to getting Frank in the building. We think he is a strong addition to the squad, and we are looking forward to working with him. He is a very dynamic player.
Frank received his first Nigeria call-up last season. He was selected for friendly matches last October and made his international debut against Algeria, his only appearance for his country to date. It is a busy year or so upcoming for Nigeria with an upcoming Africa Cup of Nations scheduled to start in January 2022 and the final stages qualification for the FIFA World Cup 2022, to be played in Qatar next November in December, set to start in September.