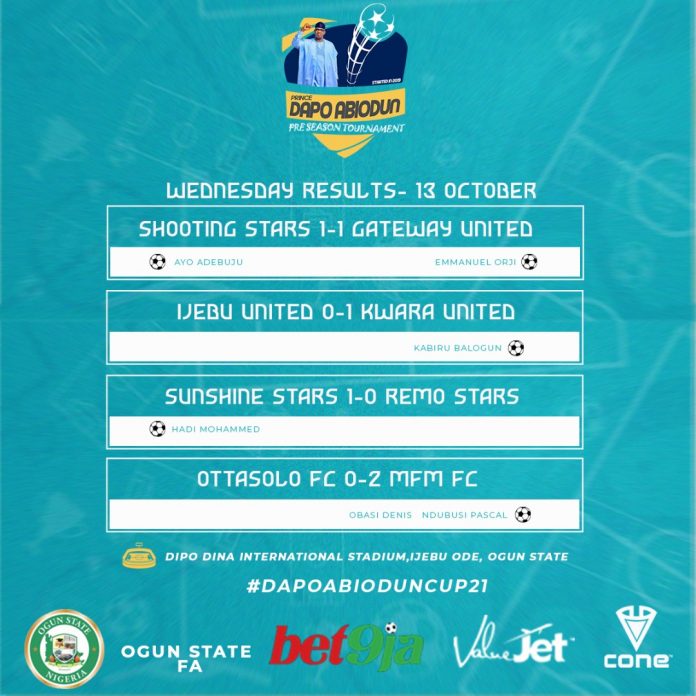 Gateway United put up a spirited performance to hold defending champions, Shooting Stars to a 1-1 draw in the first game of Matchday Two.
Ayo Adejubu opened the scoring in the second minute of the game with a fine strike from a tight angle. Gateway United came back into the game, after Seyi Okeowo's pass met Emmanuel Orji inside the area, and the tall striker calmly slotted the ball home.
Kwara United bounced back from their defeat in the first game to Shooting Stars, as they claimed a 1-0 win over Ijebu United.
A first half goal from Kabir Balogun in the 34th minute was enough to give Kwara United their first win of the tournament.
Sunshine Stars started their campaign on a winning note, after claiming a hard fought 1-0 win against Remo Stars.
First half ended without a goal after both teams missed several chances to score. Hadi Mohammed broke the deadlock in the 62nd minute after putting the ball past James Faith in goal.
Two second half goals from Ndubusi Pascal and Dennis Obasi ensured MFM FC get their first win of the tournament.
First half ended in stalemate, until Ndubusi Pascal benefited from a through pass to beat Shodipo Korede in goal. Dayo Alabi's shot inside the area was saved by Korede before a rebound from Dennis Obasi made it 2-0 to the Olukoya boys.
POST-MATCH INTERVIEW:
Sunshine Stars coach, Deji Ayeni spoke about the importance of the tournament.
"This is a good opportunity to blend our new and old players before the new season. The victory is good for the team.
"We knew Remo Stars has got a good squad and they also have a coach with a rich history, it was a good test for our team and the victory will motivate our work". Deji Ayeni said.
The tournament sponsored by Bet9ja and Value Jet is an initiative of Otunba Tade Azeez, President Nigeria Referees Association.
DapoAbidounCup21