Switzerland tennis star, Roger Federer has reportedly withdrawn from the Tokyo 2020 Olympic Games due to a setback with his knee, Owosports.com.ng reports.
The 39-year-old made the announcement on Tuesday afternoon via his Instagram account and says that he plans to return to the ATP Tour later in the year following rehabilitation work.
"During the grass season, I unfortunately experienced a setback with my knee, and have accepted that I must withdrawn from the Tokyo Olympics Games.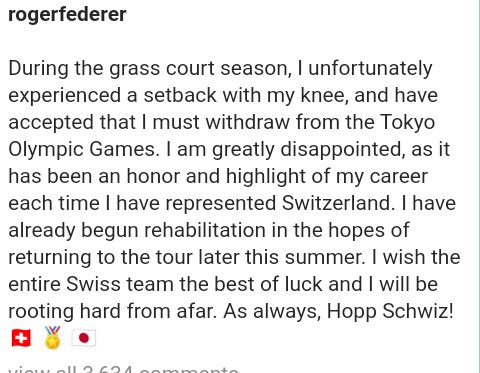 "I am greatly disappointed, as it has been an honor and highlight of my career each time I have represented Switzerland.
"I have Already begun rehabilitation in the hopes of returning to the tour later this summer, I wish the entire Swiss team the best of luck and I will be rooting hard from afar, as always, Hoop Schwiz!," Wrote the 20th Grandslam winner.
The delayed 2020 Tokyo Olympics is set to commerce later this month with the games village already opened to welcome Athletes who are already arriving.