It is imperative to know that results from Kwara United's preseason friendlies are not encouraging and satisfactory which has called for concern amidst stakeholders and fans going into the new season.
The 2-1 home defeat to NPFL side Sunshine Stars on Wednesday September 6th 2023 at the Kwara State Stadium Complex Ilorin, the first ever match to be played inside the mainbow after over a year since the re-grassing left the fans with so much disappointment.
Kwara United in all its preseason friendlies so far have struggled to win matches which has raised huge questions on the level of the teams preparedness ahead of the 2023 Nigeria premier football league season.
Recall that the Harmony Boys escaped relegation to the lower tier of Nigeria league by whisker last season after a late home win against Nasarawa United in Akure ensured that they remained afloat in the apex of Nigeria league.
Kwara United have struggled In front of goal with their only convincing victory where they scored more than one goal was their 4-0 win against NLO side Abraysports FC on the 25th of August 2023, and their 2-1 victory over NLO 2 side Dohz Sports Academy a match they also struggled massively needing a penalty to score the winner.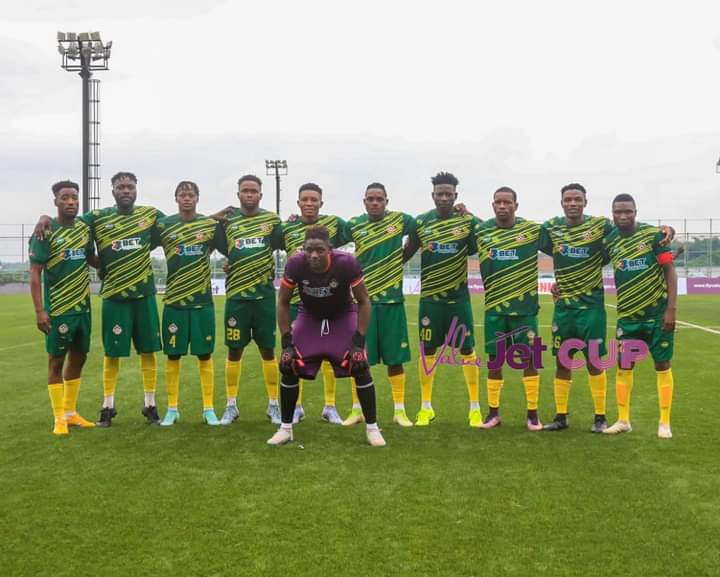 Kwara United have so far played ten matches, six grade A preseason friendlies, four from the Value Jet preseason tourney in Ikenne and have recorded just two wins, seven draws and one defeat scoring eight goals also conceding seven in the process.
Results from Kwara United Preseason matches.
"`Value Jet Preseason
Remo Stars 1-1 Kwara United
Kwara United 1 – 0 Heartland
Sporting Lagos 0-0 Kwara United
Beyond Limit 2 – 2 Kwara United ( PEN 4-3)
Grade A Friendly
US Cavaliers Of Benin Republic 0 – 0 KwaraUnited,
Buffles FC Of Benin Republic 0 – 1 Kwara United
Kwara United 0 – 0 Osun United
Kwara United 1 – 2 Sunshine Stars
Ekiti United 1 – 1 Kwara United
Osun United 1 – 1 Kwara United.
Coach Kabiru Dogo must as a matter of urgency fix the problems now and get the club back to winning ways before the league season commerces.