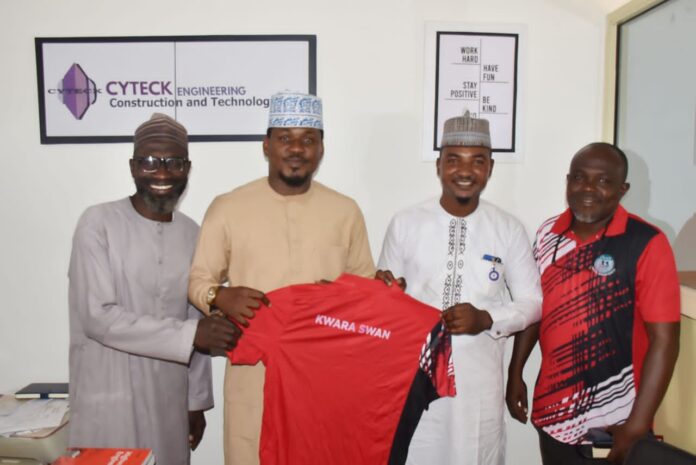 ….. pledges to support SWAN for completion of building and Ramadan
The Chief Executive Officer of Cyteck Engineering Construction and Technology LTD, Engineer Hammed Olaide, has declared his intentions to run for the office of the Chairman of Kwara State Football Association in June 2023
Olaide made this known when the leadership of Kwara State Chapter of the Sports Writers Association of Nigeria (SWAN) paid a courtesy visit to his office in Ilorin on Friday.
The football enthusiast revealed that there is a lot of untapped potential in the state, calling on relevant stakeholders to key into his dream for a greater and more vibrant Kwara Football Association.
He said, "In my quest for football development in the state, I am informing the leadership of Kwara SWAN that I will be contesting for the office of Kwara State Football Association Chairman in the forthcoming election.
"I feel there is still a lot to be done in Kwara State Football, that is why I feel we should revitalise our football in the State".
He said, "I am reaching out to major stakeholders and I believe SWAN is one of the critical stakeholders that should never be underrated".
The staunch Kwara United fan expressed optimism that the new leadership can complete the SWAN Secretariat before the end of 2023.
He said, "On the issue of SWAN Secretariat, I believe the members can kick start fundraising for sports philanthropists to donate their widow's mite. We have a lot of individuals who are ready to contribute materials and not necessarily funds. On my part, I will support SWAN whenever the Association is ready to revive the project.
"I am a SWAN person and we are one big family. I appreciate the executives for deeming it fit to reach out to me; it gives me further strength to do more."
He praised the Executives of SWAN for putting the Association first before their interest.
Olaide said, "Putting the Association first at every given avenue shows the kind of leadership Kwara SWAN possesses. For that singular gesture, before the commencement of Ramadan, I will donate to the Association.
In his response, the Chairman of the Kwara State Chapter of the Sports Writers Association of Nigeria (SWAN), Ayodeji Ismail recalled the contributions of Engineer Hammed Olaide to the Sports community.
He said that Kwara SWAN is ready to partner with Cyteck Engineering Construction and Technology LTD, by giving the company the necessary visibility.
The Chairman said the association is proud to associate with the staunch supporter of Kwara United.