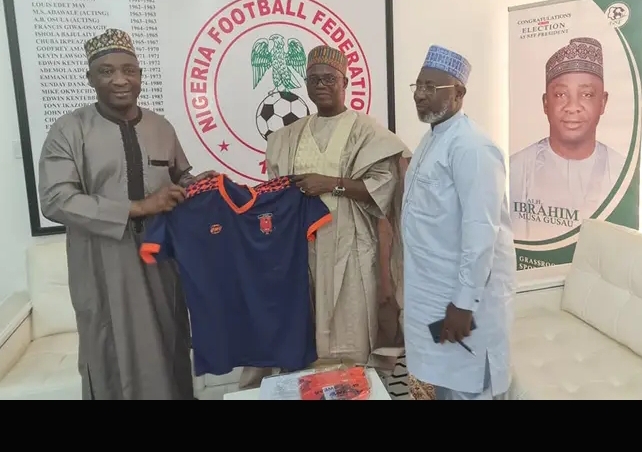 A former President of the Nigeria Football Federation, Alhaji Sani Lulu Abdullahi has praised the vision and direction of the current Ibrahim Musa Gusau-led NFF administration, saying the sincerity of its approach to issues and unambiguous intention to develop the game from the grassroots will culminate in steady growth of the Nigeria game.
Speaking during a visit to the NFF Secretariat, Abuja on Wednesday – the first since he left office in 2010 – the Omachi Attah of Igalaland described the present NFF team as "experienced, diligent and committed," and expressed confidence that it will succeed with its focus on grassroots development and inclusivity in administration.
"I feel honoured to be here. This is my first time in the NFF, sitting happily with a sitting NFF President, since I left office. I am happy about the path you have chosen, about the fact that you're a bridge-builder and about your honest intentions in taking Nigeria Football to new heights.
"I am happy doing what I am doing. I thank God for the little I was able to do with my team while we were. It was so many years ago but I still feel the passion because I never really left," said Lulu, whose FOSLA Secondary School is the reigning champion of the National Principals' Cup competition.
Earlier, President of NFF, Alhaji Ibrahim Musa Gusau praised the passion and energy of the former NFF supremo while in office, and commended the fact that he has continued to work with the same passion in producing excellent individuals through his football academy that nicely blends football with education.
"You are one man we all respect so much because football is the centre of your existence. Even after leaving office as NFF President, you have remained in the game and your school continues to churn out good products for our football teams.
"What you are doing is invaluable and it is making a real impact because very few people are providing the opportunity for our young men to blend their urge for education with their passion for football."
Gusau disclosed that the NFF is working in synergy with the Federal Ministry of Youth and Sports and the Federal Ministry of Education, as well as the Nigeria School Sports Federation, to produce Nigeria's representatives for subsequent editions of the African Secondary Schools Football Competition.
FOSLA, as the country's champion school, has been invited to participate in this year's International School Sports Federation competition taking place in Morocco next month.
Also present at the occasion were NFF General Secretary, Dr. Mohammed Sanusi; NFF's Director of Communications, Ademola Olajire; NFF's Director of Competitions, Ruth David and; Alhaji Suleiman Yusuf, personal assistant to Alhaji Sani Lulu Abdullahi.