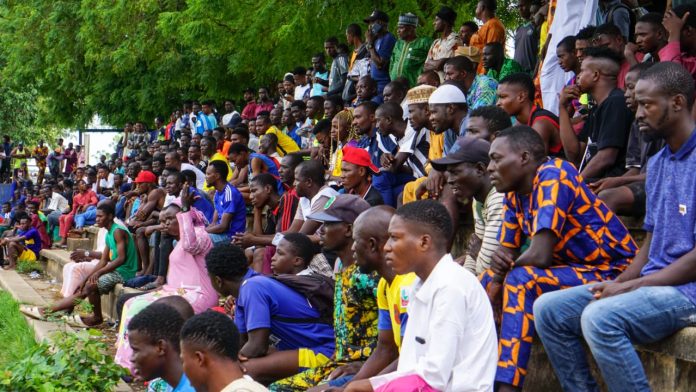 The revival of what used to be Emirate Football Championship in the 80s, now Emir of Ilorin Cup has no doubt increased football followership in Ilorin and its environs.
The competition which is being championed by all the five local governments within ilorin Emirate under the auspices of Ilorin Emirate Football Council has not only brought all football stakeholders together but has further institutionalized the round leather game in no small measure.
On Saturday, October 14th, Ilorin and its environs witnessed one of the best opening ceremonies of Football competitions when the first game of the tournament took center stage at the prestigious Queen Elizabeth School in Ilorin amid pomp and pageantry.
That it was all about the celebration of the coronation ceremony of the Emir of Ilorin, Alhaji Dr. Ibrahim Zulu Gambari CFR, the presence of the Executive Governor of Kwara State, Mallam AbdulRahman AbdulRazaq also confirmed the place that Football, particularly the Emir of Ilorin Cup occupies in the scheme of social activity in the State.
With a top notch organisation, grandeur, presence of top personalities and royalties, the opening ceremony will continue to be a reference point in the annals of history of football development in the Emirate.
The openness of the Competition to all clubs without any restrictions on age or location is another enviable gesture from the organisers as it has helped provide platform for talented players to show their God given talents while also promoting inclusiveness.
Without mincing word, the competition has received the best of media coverage with match updates, results, team's standings and daily recap of matches all buzzing across veritable platforms to keep the general public abreast of the tournament. Of course, This has been made possible by the strategic media team set up by the organisers.
Lest should we forget match day management, balanced officiating and the presence of medical teams, the Emir of Ilorin Cup has endeared itself to football enthusiasts who can't but visit all the venues set aside for the games anytime they take place.
The Competition, in its essence also speaks to the level at which football development has improved under the peaceful and prosperous reign of the revered Emir of Ilorin, in whose honour the Football fiesta was organized.
For the umpteenth time, the unity of the people of Ilorin Emirate has also been fostered through this competition and it's evident in the large numbers of enthusiasts who often come around to match venues.
The rave of comments and reviews about the tournament is nothing less but encouraging. One thing is sure, the closing ceremony which is scheduled to take place on November 11 on the same day as the Emir's 28 years coronation anniversary will definitely complement endearing legacy of the revered monarch.
Content creator:Yemi Sodeeq
Photo credit : Ibrahim Abiola Esq