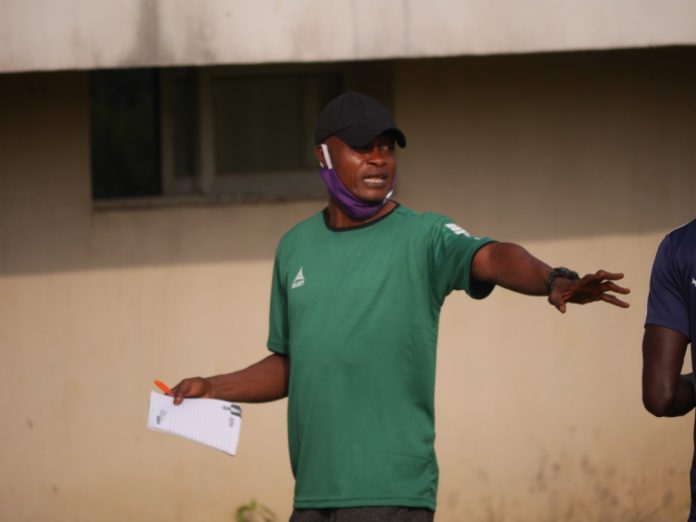 After a stalled negotiation with Kintampo FC of Ghana, Coach Yusuf Salihu has now turned his attention back to Nigeria to take charge of any available club on the demand of his service.
The former Technical Assistant to Coach Kabiru Dogo at Sunshine Stars FC says he is ready to bring in his loads of experience to a top flight Club in the country and change the face of football.
"Series of offers actually came in from Ghana premier league and first division clubs. I had a serious discussion with a first division club in Ghana but things didn't really go down as planned" says the gaffer in an interview with Sportspro News.
Coach Salihu, a disciplinarian and tactician believes he has all the wherewithal to handle a top flight club in the country, having learnt the ropes of the job coupled with packs of qualifications he has garnered.
He noted agreement on the basis of wages as one of the major issue that affected his negotiation with the Ghanian club, especially with their preference to pay in Ghana Cedis instead of Dollars.
While expressing his preference for a club that have respect for value and discipline, he stated that quality services delivery can only be achieved through a conducive environment.
As the former Technical Adviser of FC Yarmalight, Gombe, the CAF B licensed coach was able to promote the team from NLO to NNL in his first season in charge.
Salihu, who is an Ex- Nigeria Air force officer  has a trajectory that took him through all the three tiers league in the country ( NLO, NNL and NPFL) since his foray into coaching.
He has been invited for interview by several top flight club in Nigeria and the most recent one was Ekiti United.
For the gaffer, serving as Technical Assistant to Coach Kabiru Dogo has afforded him valuable experience in football management.
With his recently acquired Pro Football Management Masterclass Certificate and a refresher course in Ghana, Salihu, who once assisted Coach Samson Unuanel at Kwara United Feeders has demonstrated high sense of preparedness in taking up a new task.
A you second class upper graduate of Physical and Health Education, Scheedow, as he is fondly called holds BFut '4' and CAF 'C' Coach licenses.
As the Head Coach/Scout for TopPro management, he has discovered many young and talented footballers that are now making waves across the country and beyond.
With his adept youth football coaching and administrative experience, he hopes to get a call for duty in no distant time in his bid to materialise his well grounded knowledge.