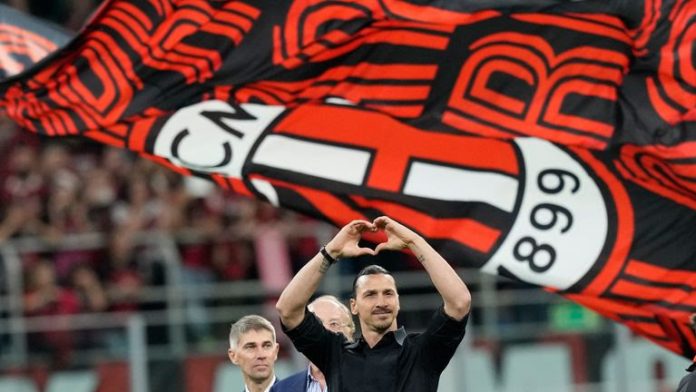 AC Milan striker Zlatan Ibrahimovic has on Sunday announced his retirement from football at age 41.
The striker's AC Milan contract expires at the end of June and he had already announced he would not be renewing it following an injury-plagued season.
But the Swedish legend announced on Sunday that "the time has come to say goodbye to football".
A clearly emotional Ibrahimovic was serenaded by the Milan fans who held up a large Tifo spelling out 'Godbye' and was then given a guard of honour by his team-mates as he left the pitch
Speaking on the pitch at full-time, Ibrahimovic said: "I have so many memories and lived so many emotions in here, the first time I arrived here you gave me happiness. The second time love.
"I want to thank my family, everyone close to me, for their patience. I want to thank my second family, the players. I want to thank (AC Milan head coach Stefano) Pioli and his staff for the responsibility you have given me. I want to thank the managers for the opportunity. According to quote gathered from Sky sports News.
"But most important of all: from my heart I want to thank you fans. You welcomed me with open arms, you made me feel at home. I will be a Milan fan for life. The time has come to say goodbye to football, but not to you. I have too many emotions that are passing through me. See you around, if you're lucky. Forza Milan and goodbye
The striker started his professional career at Malmo FF in 1999 and left for Ajax Amsterdam in 2001 before embarking on a career that has included leading European teams including Manchester United, Inter Milan and Milan.
Ibrahimovic arrived in Milan for his second spell with the club in early 2020, having won the Scudetto with them in 2011, and helped them win the title again last season.
Ibrahimovic, Sweden's all-time top scorer with 62 goals in 121 matches, quit the national team after Euro 2016 but returned in 2021 for their unsuccessful World Cup qualifying campaign.
Earlier in the evening Rafael Leao had celebrated his second, and Milan's third, goal of the game by celebrating with the veteran striker on the sidelines. AC Milan beat Hellas Verona 3-1.