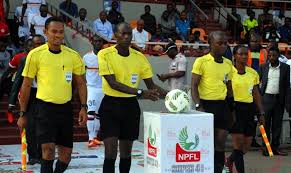 The Nigeria Football Federation (NFF) says it wants the high standards of refereeing seen in the nation's top flight, the Nigeria Premier Football League (NPFL) to be replicated in the second tier league, the Nigeria National League (NNL).
Under the Interim Management Committee of the NPFL, headed by Honourable Gbenga Elegbeleye, officiating which used to be a draw back in all facets of the nation's football leagues,the country's football leagues have significantly improved.
Matchday one of the 2022/2023 NNL Season continues on Wednesday March 22, 2023 across designated venues in the country, and the NFF through its President, Ibrahim Gusau wants arbiters officiating in the league to be top notch professionals and exhibit uprightness, always.
A board member of the NFF, Rt. Honorable Nse Essien also heaped praises on the match officials who referred the opening fixture of the NNL between FC ONE Rocket and Warri Wolves FC, in Eket for what he called excellent officiating.
After the encounter at the newly built Eket Stadium, Hon. Essien urged the referees to sustain the momentum.
"I have watched good officiating, the referees did very well today, this is about what the NFF is preaching. The match umpires must come clean in every match prior to, during and after games, an excellent performance no doubt and I strongly urge them to sustain it", he said.
He further said the quartet of referees Oscar Iwuadi from Imo State, Wisdom Nwokeocha from Abia state, Stanley Chibuko from Enugu State and fourth Referee,Japhet Emmanuel from Akwa Ibom State Referees' Council all deserved special awards for their professional handling of the opening match.
He also thumbed the match Commissioner,Talabi Oke from Cross -River Counci and referee Assesor,Chief Ucheafor C.O from Abia Council.
"These are the kind of referees you watch and feel proud of, they deserve every recommendation and special awards", Rt. Hon. Essien concluded.
He however urged the headship of NNL to ensure that the league is monitored closely with a view to ensuring that the good officiating witnessed in Eket is sustained or improved upon through out the season.
He noted that it is only by so doing that the NNL can ensure that only the beast teams are given a fair opportunity to play in the Super Eight, where four of the very best are promoted to the elite division.
The remainder of Day One matches in the 2022/2023 season of the NNL, the most important domestic football league in Nigeria, will see twenty matches played on Wednesday, March 22 and Thursday March 23rd.
Top of the fixtures are the games involving Sokoto United and Kano Pillars; Go-Round FC of Omoku vs Vandrezzer of Akwa Ibom; Katsina United and City FC of Abuja; Abia Comets vs Heartland of Owerri; Crown of Ogbomosho versus Gateway United; Mighty Jets of Jos battling anti graft
side EFCC FC, Ikorodu City vs FC Ebedei; and Adamawa United versus Yobe Desert Stars of Damaturu.