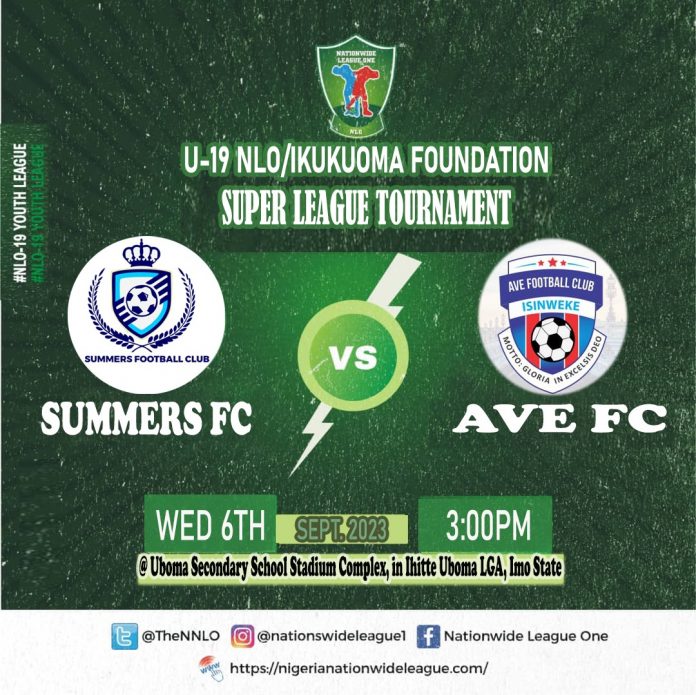 It will be football glitz and glamour in Uboma, Imo State as the inaugural Nationwide League One NLO/Ikukuoma Super Cup kicks off on Wednesday September 6 with an opening fixture between Summer FC and Ave FC.
The NLO secretariat, who last week listed 18 teams, which included two wild cards, released the groupings, match fixtures, timing, and venues that will host the 10-day tournament.
The Uboma Secondary School Stadium Complex, in Ihitte/Uboma LGA, Imo State will host matches of the NLO Super League.
Six (6) groups A to F, have three teams each; as they will battle for pride in the group phase, for a winner from each group to qualify for the Second Round after 18 matches.
The top teams from the six (6) groups will square up against themselves in a Group A and Group B format made up of three (3) teams each, with only the two (2) best teams qualifying for the final of the NLO/Ikukuoma Super Cup billed for Saturday, September 16.
Teams drawn in Group A are Ihitte Uboma-based Summer FC, Ave FC, and Golden Albium FC (Delta State). Group B has Buratai FC (Yobe State), Palm Syrup FC (Akwa-Ibom State), and Paul E FC (FCT), while JSC FC Suleja (Niger State), Divine Praise FC (Lagos State) and Kofar Soro FC from Katsina State make up Group C
Ikukuoma FC (Imo State), Ablegod FC (Ondo State) with Kano-based Hausawa United FC are in Group D, followed by Tudun Wada FC (Kano State), Zeal Minds FC (Benue State) and Vandrezzer Academy (Akwa Ibom State) in Group E.
The trio of DOHZ FA (Kwara State), Discovery Academy (Kebbi State), and FC Ebedei JNR will slug things out in Group F.
Chief Operating Officer of the nation's third-tier league, Olushola Ogunnowo who spoke ahead of the kickoff.
"We know that Nigerians are passionate about football, so we want to make our grassroot football irresistibly appealing to them and the rest of the World.
"All is still in top gear for the inaugural NLO/Ikukuoma Super Cup without hitches in terms of the logistics we have put in place," said the NLO's COO Olushola Ogunnowo.
The tournament which will be keenly contested will see invited foreign scouts, and eight Sporting Directors from different leagues across the world in attendance.
However, the NLO broadcasting department will be live-streaming all matches from the championship for fans all over the world to see.