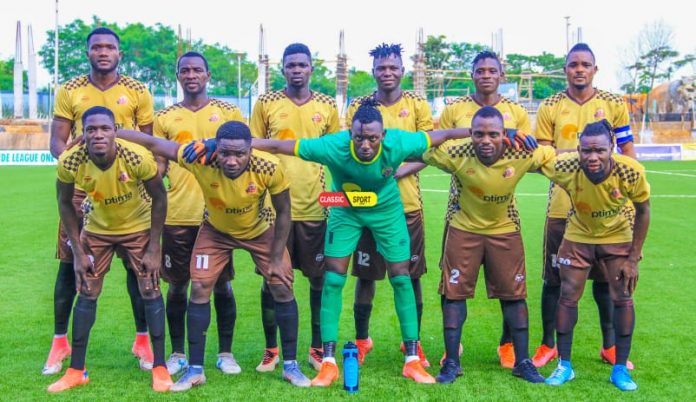 It all started brilliantly for Shooting Stars Sports Club of Ibadan as they were matched with Remo Stars Sports Club this year Ogunjobi Gold Cup Final played at Remo Stars Stadium in Ikenne, Ogun State with both teams playing to the fans' expectations.
Suddenly after ten minutes of play, The Sky Blue Stars engine room was piloted by former Enyimba International of Aba, Ekundayo Ojo who changed the game and dictated the pace of the game which resulted to pressure on Oluyole Warriors defense and Detan in goal became the culprit when he made a schoolboy error, mistakenly passed to Andy Okpe who made no mistake to slot home from outside the box on the 42nd minutes of play.
The same mistake played out to the second goal, five minutes into the second half with Ojukwu David's brilliant finish after he connected with a pass from Ekundayo Ojo. Detan was called to action as he found himself one on one with Tolulope Ojo whose pass was headed home by Andy Okpe for his second of the day and Soname Boys' third goal.
Detan was substituted for Tambe immediately after the goal, who later conceded the fourth goal ten minutes before regulation time, as Soname Boys massacred Oluyole Warriors.
Psychologically Detan wasn't in the game anymore when he made the first wrong pass to the opponent which led to the first goal.
This same scenario that happened in Saturday's Ogunjobi Gold Cup Final with Detan occurred during Nationwide League One Super 8, where Destiny Boys FC goalkeeper made some silly mistake against Campos FC, he wasn't in the game anymore psychologically and they were trailing by 0-2, the coach substituted him during halftime introduced another goalkeeper which they eventually won by 3-2.
The rotation in the goalkeeping department by the coach of the Ibadan darling team needs to be questioned, Tambe saved the team with some world-class save against MFM FC in the semifinal, had a fantastic outing en route final.
Why can't the coach and his technical crew start him?
Another angle the coach needs to work on going into the league proper is to have his first-choice goalkeeper and stop the habit of rotating goalkeeping positions weekly.
The management and the gaffer need to get good legs to complement those on the ground, importantly a creative midfielder that can twist the opponents' backline.
Urgently Needed:
Top and ball-playing striker
A Creative midfielder
After getting the needed materials to execute the league, then the team should focus on technical and tactical.