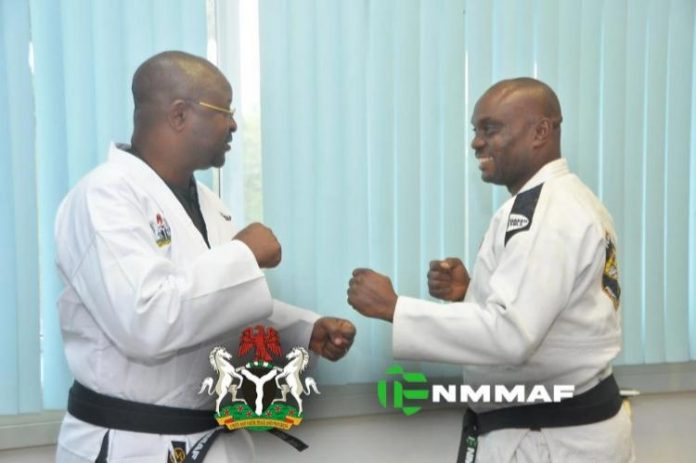 According to Exercise Right, a leading public awareness campaign by university-qualified experts and exercise professionals, Mixed Martial Arts, MMA is beyond self-defence and brutality, it helps the mind be in tune with the body. It has removed its no-holds-barred image and has emerged as one of the world's fastest growing sports. Growing in popularity for many as a preferred choice of exercise, the benefits MMA can have in the mind and body are enormous. The hybrid combat sport incorporates techniques taken from boxing, wrestling, judo, jujitsu, karate, Muay Thai, and other disciplines.
The Nigeria Mixed Martial Arts federation, NMMAF was established in Nigeria on the 11th of March 2014 by Ambassador Henry George, a former world karate champion and multiple National Karate Champion. It was formed mainly to inspire and motivate young people against cultism, criminality and other vices.
After five years of promoting the Sports in the grassroots, hosting technical workshops and training coaches, athletes as well as fighters, NMMAF was officially acknowledged and granted membership by the world governing body, the International Mixed Martial Arts Federation, IMMAF on the 12th of July 2019.
The President and Board continued with its commitment to entrench MMA fully in Nigeria by meeting all Ministry of Sports and Nigeria Olympic committee, NOC criteria to become an approved sport and official sport federation in Nigeria.
On the 19th of October 2022 the National Council for Sports approved Mixed Martial Arts to take part in the National Sports Festival Asaba, Delta 2022 as demonstration sport. The Ministry officials and the World president of IMMAF, Kerrith Brown who came to witness this historic event was the special Guest of honor.
After the demonstration, on the 11th of January 2023 the Federal Government through the Ministry of Youth and Sports approved Nigeria Mixed Martial Arts Federation as a National Sports Federation. Minister of Youth and Sports Development, Sunday Dare who disclosed in Abuja, said that the approval which was granted on January 11, 2023, followed a series of interfaces between the Federation's Board and the Ministry "having satisfied the condition precedent, pursuant to NMMAF's acceptance to abide with the Code of Governance of all National Sports."
He stated further that "the recognition has also saddled the Federation with the responsibility to develop, regulate and ensure the safety of Mixed Martial Arts (MMA) as a thriving sport in Nigeria in line with global best practices."
On the 2nd February 2023 the Nigeria Olympic committee NOC approved Nigeria Mixed Arts Federation.
In another historic occasion, the Federation conferred an Honourary MMA Black Belt Award to the Minister of Sports and Youth Development, Sunday Dare, in recognition of his achievements and immense contribution to the growth and development of MMA and other sports in Nigeria.
President of Federation Ambassador George has promised that the board will ensure the Federation becomes a one of the best in the country.
By Deinma Abaku
Media Head, NMMAF