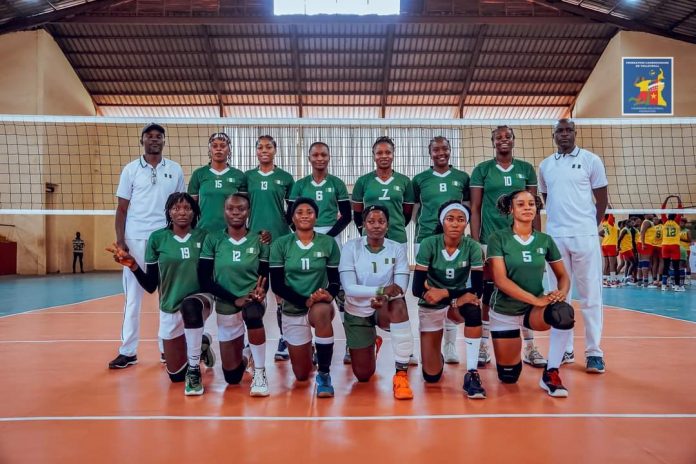 Nigeria defeated Mali 3-0 (25-18, 25-14, 25-20) in their first match at the ongoing 2023 African Senior Women's Volleyball Championship in Yaounde, Cameroon on Wednesday.
Nigeria kicked off their campaign on a slow start losing the first three points in the first set. Mali took the lead till the 14 point before Nigeria caught up and won the set by 25 to 18 points.
Nigeria played better in the second set with the introduction of Happy Wushilang and Sandra Ozabor making six straight points from the service. Nigeria won the second set in style by 25 to 14 points.
For the first time in the game, Nigeria took the first point in the third set before going on to win the third set by 25 to 20 points.
Reacting to the victory, the head coach of Nigeria women's volleyball team, Samuel Ajayi said his players were nervous in the first set but overcame it as the game progressed.
Ajayi said, "I feel good and I hope the people back at home will be happy with the results; I thank God for the girls.
"At the beginning of the first set, the players were nervous, trying to have the feeling of the hall but I thank God as the match progressed, the girls started picking up and were able to get the maximum points against Mali."
Ajayi revealed that he was not bothered with Nigeria losing the first set because he knew the players would adjust before the end of the set.
He said, "When the girls were losing by five points in the first set, I knew they would recover. It was the first game and the girls would be playing a country for the first time as a team. Remember, I infused some U19 players and this is like a rebuilding process for the future.
"Everything is possible and how you are able to take advantage of your opponents. As far as I am concerned, the team is not under pressure and Nigeria will make it to the quarterfinals."
Nigeria will face host Cameroon on Thursday by 8pm.