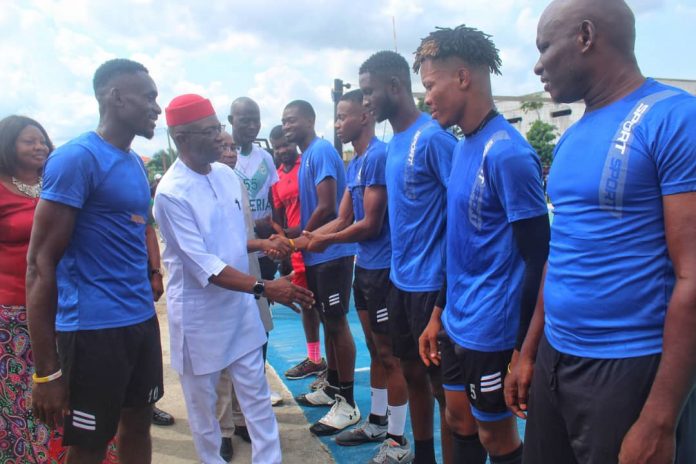 The Coach of Imo Spikers, Uche Ogbonna said the presence of the Deputy Governor of Imo State inspired the state-owned club to victory at the 2023 National Division 2 Volleyball League in Owerri.
Imo Spikers beat Ajase Ipo 3-1 (25-21, 25-22, 20-25, 25-19) at the outdoor volleyball court of Dan Anyiam stadium on Monday.
Ogbonna said with the support of Governor Hope Uzodinma, Imo Spikers have the opportunity of qualifying for the National Division 1 League next year.
He said, "I am very excited to win our first match of the Division 2 League and if you watched the match, you will discover that our opponent is a good side but I noticed a loophole which we capitalised on.
"The presence of the Deputy Governor boosted the morale of the players to win the match. When the Deputy Governor is available to watch the match, it means the Governor himself is in the seat. The Governor is a sports-loving individual and we know he will definitely make donations to the team when we qualify.
If the boys continue with the level of dedication they have displayed, I am optimistic that Imo Spikers will be in the National Division 1 League next year".
Day 1 results of the 2023 National Division 2 League in Owerri, Imo State:
Oluyole Spikers of Ibadan v Niger Brass (3-1)
1st set: 25-17
2nd set: 25-18
3rd set: 21-25
4th set: 22-25
5th set: 15-11
Odogwu Spikers v Sword VC of Makurdi (0-3)
1st set: 22-25
2nd set: 28-30
3rd set: 13-25
Safety Spikers v Life Camp VC (0-3)
1st set: 21-25
2nd set: 21-25
3rd set: 24-26
Imo Spikers of Owerri v Ajase Ipo (3-1)
1st set: 25-21
2nd set: 25-22
3rd set: 20-25
4th set: 25-19
Olalomi Royal VC v Adamawa Spikers (3-1)
1st set: 25-22
2nd set: 26-24
3rd set: 19-25
4th set: 25-20
Safety Spikers v Oluyole Spikers (1-3)
1st set: 25-23
2nd set: 23-25
3rd set: 21-25
4th set: 23-25
Life Camp VC v Ajase Ipo (3-0)
1st set: 25-19
2nd set: 25-22
3rd set: 25-19