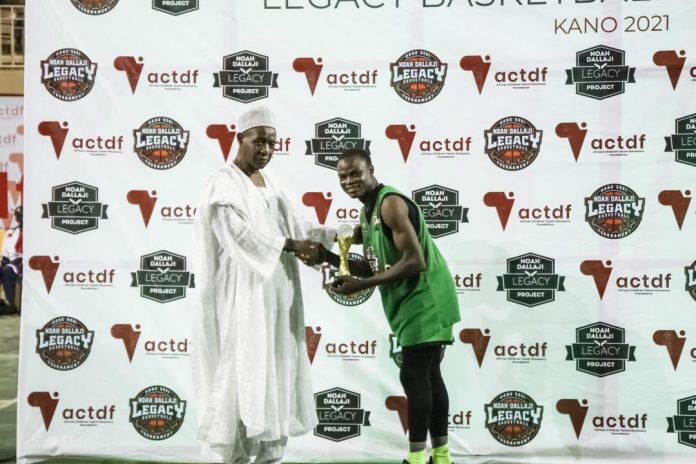 Zakari Tahir is the runaway winner of the Most Valuable Player Award of the 2021 Noah Dallaji Legacy U17 Basketball Tournament.
The Kano U17 Basketball team forward helped Kano to emerge champions after defeating Kaduna (72-70) in the final. He played in all the seven matches from the preliminary to the final in the 8-day tournament in Kano.
Taihir, 16, beat Azi Obinna (Plateau) in the voting results to win the award. He was also awarded the Highest Scorer, emerging the highest points scorer in the competition averaging 4.3 points in 7 matches. Behind Taihir, Azi Obinna posted a mouthwatering performance in the competition emerging as the Assist Leader while Samuel Alphonsus of Kaduna won the Highest Rebounder and the Defensive Player Awards.
Kano pipped Kaduna (72-70) to emerge champions of the maiden Noah Dallaji Legacy U17 Basketball Tournament as Kaduna won silver trophy while Plateau edged Kebbi to win bronze medal.
Elated Zakari while speaking with journalists said the award is dedicated to his mum who has been supporting him. He added that he will be willing to play for D'Tigers and also played in the NBA.
"I dedicate this MVP award to my mum who has been supporting me through the thick and thin. I also thank my team mates who make it possible for me to win the award. My coach is also like a father to us. This award should motivate me to be up my game and play in the NBA and for D'Tigers in future."
The tournament is named after the sponsor, Engineer Noah Dallaji, president, African Children Talents Discovery Foundation (ACTDF), a Non-Governmental Organization that focuses on creating platform for African Children to soar in their careers.