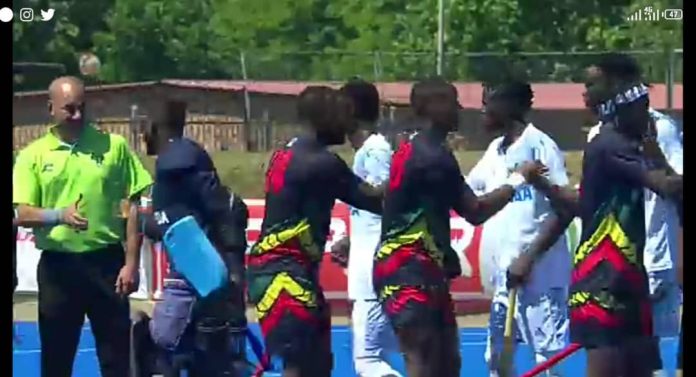 By: Ademola Fagbemi
The Nigeria women's hockey team on Wednesday booked their place in the semi final of the ongoing Africa Hockey road to Paris 2024 after a 2-1 narrow victory over Zimbabwe in their last Pool A fixtures in Pretoria.
Saturday Comfort opened the scoring for the West African country in 39th minutes while Alexei Terblanche leveled the scoring six minutes later to send the first quarter to a stalemate.
The return of the second quarter was in in favour of Ndana Baba led team as Saturday Comfort again in the 55th minutes scored her second goal of the game.
Having completed the pool A fixtures, Nigeria women hockey team came second with 3 points behind the host country, South Africa who had six points from the their 2 matches played.
The Nigeria women team will face Kenya, who finished pool B with maximum nine points from their 3 matches in the semi final on Thursday while South Africa face with Ghana who finished second from pool B.
Meanwhile, the Nigeria men's hockey team will be hopeful to see South Africa beat Uganda for them to have a place in the semi final of the competition.
Having fell 5-0 and 8-2 in the hand of Uganda and South Africa respectively, Nigeria defeated Zimbabwe with a hard fought 4-3 win in their last Pool A match.
Samaila James stole the show as he scored hat-trick to rescued Nigeria from being eliminated from the Olympic qualification.
Nigeria, Uganda and Zimbabwe are tied with 3points each while the victory over Zimbabwe put Nigeria in third position.
Should South Africa beat Uganda in the last pool A fixtures on Thursday, Nigeria will move up to second place and secure semifinal ticket with a goal different.